Winter Health is about building your immune system so that your body can do what it needs to do to keep you strong, vibrate and healthy. There are many herbs that have the power to support, build and heal us in this way. How can we do this that is realistic and do-able? Often, there is "information-overload". Where can we begin?
I have found that people can best incorporate the healing herbs, much like we can of our culinary herbs, when we include them in our everyday diets and cooking.
My thinking is that herbs shouldn't be thought of as a supplement but a rather a compliment. Just step back and take a look at how far we Americans have come, pertinent to using herbs in cooking. "Parsley, Sage, Rosemary and Thyme" may have first become popular through a Paul Simon song, but we are familiar with them and enjoy these herbs, particularly, through the winter months. More recently, we have come to love Basil as a Pesto, over fresh Tomatoes, and in sauces, and Cilantro the distinct aromatic herb that we savor in fresh Salsas. There are many more as we have become exposed to culinary delights of other cultures and nations.
Fresh Picked Dandelion Root
So, now it has come time to celebrate the roots! As the herbs have made their way into our cooking, let's use the roots as compliments in our sauces, soups and stews, instead of something that we find in the dreaded medicine cabinet. (i.e. How many of us really like taking a cupful of pills every day?)
There are many "immune soup" recipes out there. In common, these immune soup recipes use roots and often mushrooms as their ingredients. Any of them can cook up into dense broths that are either frozen in cubes to be added later, or used that same day. A very hearty soup can result by adding vegetables, beans, potatoes or whatever is available. It's really truly hearty!
The roots come from near and far. Much more has been researched in the East so they are better known. I trust with time we will discover that there are western herbs with equal power and strength.
Right now our best known roots for immune support are Burdock and Dandelion, particularly.
Anyway, here is a list of the roots and mushrooms that have been used in various recipes that I have found:
Dandelion , Burdock, Astragalus, Ginseng, Ginger, Fo-ti, Chinese Bellflower and Ashwaganda. Popular mushrooms are Reishi, Red Reishi, Chaga, and Shitake.
Fresh garlic is often added as part of the base.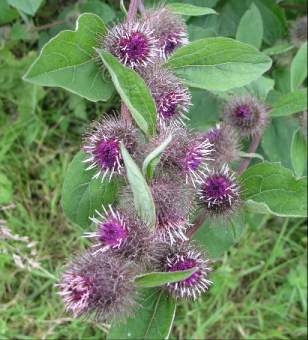 Burdock leaf and flowers.
The ratio of roots to water can vary. For a dense broth use 1-2 cups of roots/mushrooms/garlic for every quart of liquid. Simmer the roots in the water very slowly for a minimum of 1 hour. Preferable longer.
Strain, and either create your hearty soup or place in ice cube trays and freeze to make immune-cubes to put in future soups, stews and sauces.
This is my favorite recipe:
Immune Support Soup
1 cup Astragalus Root, dried
1/2 cup Ashwagandha Root, dried
1/2 cup Reishi Mushroom, dried
1/2 cup Burdock Root, dried
half bulb garlic, chopped. (4-5 cloves)
Take the above ingredients and simmer them covered in a pot with 2 quarts of water. Simmer slowly on low heat for at least 1 hour and strain. Make into a hearty soup, freeze in cubes or drink 1 cup daily as a tonic.
(This recipe is from a wonderful book filled with herbal wisdom and science: The Wild Medicine Solution; Healing with Aromatic, Bitter, and Tonic Plants by Guido Mase (2013, Healing Arts Press, Rochester, Vt.)
Wild-Harvesting
your own Dandelion and Burdock roots are do-able here in the Northeast US. This is best done in the very early spring or later fall. Their roots are can be very long (+12") and thick when over 1 year old. They often need a good heavy spade and lots of patience. Once dug they need to be scrubbed clean. I grate the root fresh and then dry the grated root in a very low oven. I find this easier than trying to cut into a whole dried root.